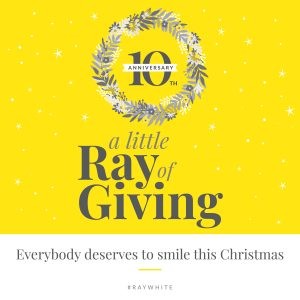 A Little Ray of Giving 2021
10 Years of Goodwill
This festive season, Ray White will continue its successful charity drive 'A Little Ray of Giving' for the tenth year running.
This holiday campaign is a tradition for the brand and serves as an opportunity for hundreds of local branches to connect with their communities while raising awareness and much-needed resources for worthy causes.
As a charitable initiative, the campaign will see Ray White Greerton and Cherrywood partner with Te Aranui Youth Trust to help people, families, and groups who may need some extra support and care during the festive season.
"This campaign has always been a real highlight of our year. It gives us a chance to reach out to the people around us directly in a way that benefits people with less advantages, and get the things they need during a demanding time of year," said Nicolette Aldridge .
The Ray White Greerton and Cherrywood team is calling on Tauranga to show their generosity and give to Te Aranui Youth Trust, by sending their donations to Ray White Greerton and Cherrywood for collection and safe storage.
"2021, and 2020 too, have both been extremely difficult for everyone but no one's felt the negatives more than those groups that were already vulnerable. Lots of people and families have even found themselves in a bad position because of the way things have gone recently. So this year's A Little Ray of Giving is especially important to us, and it's going to be a good way to let people in need of help know that their community supports them,"
Those who wish to donate a gift just need to inform the Ray White team if the gift is for a male or female and nominate an age group.
Ray White Greerton and Cherrywood located at 212 Chadwick Road, Greerton and 34 Cherrywood Drive, Otumoetai will have their
special giving tree in their front window and will be collecting gifts from 22 November 2021.
The gifts are safely stored on the premises and are collected by Te Aranui Youth Trust.
Ray White has run this initiative since 2012, and every year, offices from across Australia and New Zealand have collected thousands of gifts and donations for not-for-profit organisations and charities and uplifted hundreds of communities in the process.
Contact:
Nicolette Aldridge, Branch Manager, Ray White Greerton & Cherrywood, 027 579 2122